The Cardinal travels to Oregon this week for games against:
How many Beavers does it take to stop Chiney?
For fans that are travelling to Oregon: A reminder to meet for dinner before the Oregon game at the Bridge Bar & Grill at about 4:00, and to meet for brunch and a chat before the Oregon State game at the home of Ed & Mary Jennings between 11:00 am and 1:00 pm.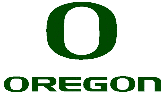 Oregon Ducks
The Oregon Ducks are having a very difficult season.
They lost four of last seasons's top five top players – Amanda Johnson, Nia Jackson and Jasmin Holliday graduated; junior forward Deanna Weaver, who injured her foot last March and had not played yet this season, left the team last week. Between them, they accounted for 55% of the Ducks' points and 45% of their rebounds last season.
Then early this season, senior guard Laura Stanilus and sophomore forward Lexi Petersen, both starters, suffered season-ending knee injuries.
That leaves fourth-year head coach Paul Westhead with just three bench players who average more than six minutes per game. He's not having much success with his trademark up-tempo style of play.
The Ducks' main problem is that they put up a lot of shots, but they don't make many. They take more shots than any other Pac-12 team, but have the poorest field goal percentage. On average, the Ducks score 13 fewer points than their opponents.
They also turn the ball over more than any other Pac-12 team – about 21 times per game, which is seven more than their opponents.
Fortunately, they lead the Pac-12 in rebounding, but just barely – they snag only two more per game than their opponents.
The probable starters for Oregon are:
The three reserves who get significant playing time are:
Oregon's win-loss record (3-17 overall, 1-7 conference) places them last in the Pac-12, their RPI (274) places them last, and their strength of schedule rank (107) places them ninth.
Here are Oregon's 2012-13 statistics and roster.

Oregon State Beavers
It's been a difficult year for the Oregon State Beavers too.
After two good seasons under head coach Scott Rueck, 2012-13 held the promise of even more improvement. The Beavers were returning four starters from the team that went 20-13 and advanced to the quarterfinals of the WNIT, and they had added a highly-regarded freshman class.
The promise faded before the season started when senior guard and team leader Sage Indendi suffered a season-ending ankle injury and senior center Thais Pinto suffered a knee injury that has kept her off the court, with no timetable set for her return.
The Beavers struggled in non-conference play, but have steadily improved since the beginning of the season. They're doing better than their win-loss record indicates. Four of their five conference losses have been by very narrow margins — one point vs USC (56-55), four points vs UCLA (68-64), and in overtime by four points to Washington (81-77) and three points to WSU (76-73). Their top five scorers are averaging 20.5 more points per game in conference play than they did in non-conference play.
The Beavers are a balanced and slow-paced team that sometimes struggles to score. They average the second-fewest points in the Pac-12 and have just one player who scores in double digits. They're hurt by having a high turnover rate – four more than their opponents.
The Beavers' strength is their defense. Six of the players in the regular rotation are good rebounders, averaging from 4.3 to 6.5 rebounds per game. The team leads the Pac-12 in shot-blocking with just over six per game. They hold their opponents to just 33.5% shooting — the second-best in the Pac-12 and 11th in the nation.
The probable starters for Oregon State are:
Oregon State's win-loss record (9-11 overall, 3-5 conference) places them 9th in the Pac-12, their RPI (200) places them 11th, and their strength of schedule rank (134) places them 10th.
Here are Oregon State's 2012-13 statistics and roster.