The teams from Southern California are coming to Maples this week: UCLA on Friday evening at 8:00 and USC on Sunday afternoon at 4:00.
Both games will be televised by the Pac-12 Networks and broadcast by KZSU.
Note that what may be the most interesting Pac-12 game of the week (UCLA at Cal) is on Sunday afternoon at 1:00 and will be televised by ESPNU.
Jos anticipating a rebound last season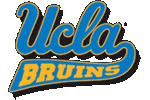 UCLA Bruins
UCLA had a great non-conference season. They had a very tough schedule and lost just two games — a "good loss" to No. 5 Notre Dame and an inexplicable one to Cal State Northridge. Their successes included wins over two other ranked teams — No. 11 Oklahoma and No. 12 Texas.
They've continued their success in conference play with four wins, albeit over the fairly weak Oregon and Washington teams.
They've been among the Top 25 in the national polls since the third week of the season. They're currently ranked No.14/15.
The Bruins got a new coach last season (Cori Close), but they didn't get a new persona. They haven't become the "nice girls of Westwood". They're very strong inside and are excellent defenders. They lead the Pac-12 in rebounding, both in total rebounds (46.2 per game) and in offensive rebounds (16.2 per game). Their strong defense includes the most steals in the Pac-12 (12.2 per game).
The Bruins are also excellent on offense, although in somewhat unusual ways:
It all adds up to 73.3 points per game — the best in the Pac-12.
The Bruins run an 8–9 player rotation. These are the most productive players:
These players complete the Bruins' usual rotation:
The Bruin bench has been shortened by several injuries. Junior center Corinne Costa has missed the last seven games since suffering a head injury in mid-December. Freshman guard Lauren Holiday has suffered head injuries twice this season and is not expected to return. Junior forward Rhema Gardner had knee surgery in October and is redshirting this season.
UCLA's win-loss record (13-2 overall, 4-0 conference) places them first in the Pac-12, their RPI (14) places them third, and their strength of schedule rank (44) places them fourth.
Here are UCLA's 2012-13 statistics and roster.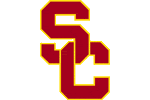 USC Trojans
USC has recovered well from a six-game losing streak in non-conference play with four conference wins, but it's not likely that they'll stay in the top tier of the Pac-12.
The Trojans have two players (Harberts and Crook) who have scored exactly half of the team's points. No other player averages more than six points a game and the team's field goal percentage is just 37.2 (ninth in the Pac-12). They're tenth in the Pac-12 in points scored and eleventh in points scored by their opponents.
According to USC's game notes, the starters for the Bay Area games will be:
The Trojans have four other players who play more than a few minutes per game.
The Trojans have lost a valuable reserve, freshman guard Jordan Adams, to injury. She's out for the season after having surgery for a series of shoulder injuries.
USC's win-loss record (7-8 overall, 4-0 conference) places them second in the Pac-12, their RPI (132) places them tenth, and their strength of schedule rank (90) places them ninth.
Here are USC's 2012-13 statistics and roster.