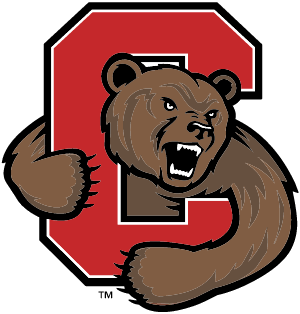 Cornell Big Red
The Cardinal is at home on Saturday afternoon at 2:00 to the Cornell Big Red. The game won't be televised, but it will be live-streamed by Stanford Athletics here. KZSU will broadcast the game, and live stats will be here.
This will be the first Stanford vs Cornell encounter ever. Cornell, located in Ithaca NY, is one of the eight Ivy League schools.
Cornell currently stands near the bottom of the league with a 4-4 win-loss record. Its roster consists of nine guards and three forwards (the tallest is 6-2.
The Big Red is led by 6-0 junior forward Nia Marshall, who accounts for more than a quarter of the Big Red scoring with an average of 16.8 points per game. She also has the most steals (2.6 spg) and the most blocks (1.0 bpg).
5-8 junior point guard Kerri Moran scores just 7.3 points per game herself, but generates more with her good ball handling. She tallies more than twice as many assists as turnovers — 4.5/1.9 per game.
6.0 senior guard Maddie Campbell leads the Big Red defense with 6.9 rebounds per game. 6-2 junior forward Nicholle Aston is close behind with 6.5.
The long ball is not a major part of Cornell's game. They make just 19% of their points from beyond the arc. 5-10 freshman guard Caroline Shelquist is Big Red's quintessential 3-point specialist. She takes 90% of her shots from beyond the arc, and makes just under two per game at a rate of 40%.
Here are Cornell's statistics and roster.