Yes, the regular season is almost over, and the Cardinal play their last games at Maples this weekend. (That is, the last games of the regular season. They'll be back on March 24 for the opening rounds of the NCAA tournament.)
The games this weekend are against:
Oregon State on Friday night at 8:00
Oregon on Sunday afternoon at 4:00
Both games will be televised by the Pac-12 Networks and broadcast by KSZU.
The Opponents
There's not much news about the Oregon teams since the Cardinal last played them on the road three weeks ago.


Oregon State has some of the top young players in the Pac-12, but the team has struggled all season and has lost its last eight games. The Beavers are now ranked 11th in the Pac-12.
Freshman guard Jamie Weisner is the Beavers' leading scorer (12.7 ppg), and freshman forward Devan Hunter is their leading rebounder (6.4 rpg).
The Beavers played tough defense against the Cardinal in Corvallis and held them to 38.5% field goal shooting, well below season average.
Here are Oregon State's 2012-13 statistics and roster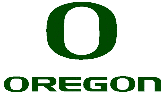 Since losing to Stanford three weeks ago, the Oregon Ducks lost to Cal, Utah, Colorado and Washington, then upset Washington State 65-60 for their second conference win of the season. They are in the Pac-12 standings cellar.
Tara reminds us in her weekly video that Oregon uses a zone defense that challenges perimeter shooting. The Cardinal's response to that challenge in Eugene included ten of 27 three-point attempts.
Oregon's fabulous freshman forward Jillian Alleyne has continued her stellar performance. She's the Ducks' leading scorer (13.4 ppg) and rebounder (12.3 rpg). She's tied with Chiney as the sixth best rebounder in the nation. She was named Pac-12 Freshman of the Week last week for the third time this season.
Here are Oregon's 2012-13 statistics and roster.
Senior Day
Cardinal fans will say, "Good-bye," to Jos and Mikaela on Sunday.
They'll be officially honored by Stanford Athletics in a ceremony after the Oregon game. Then they and their family members will meet with their fans for an informal "Behind the Bench" session.
Jos will most likely have another reason to remember this weekend as a special one. She has now scored 996 points in her Cardinal career and is almost certain to become the 34th member of the Stanford Women's Basketball 1,000-Point Club on Friday or Sunday.
Mikaela is eligible to play next season as a red-shirt senior, and she has been accepted into her Master's program at Stanford. Whether or not she'll join the Cardinal on the court next season hasn't been announced. It's a convoluted decision, involving scholarships and NCAA limitations.
Other Notable Events
Sunday is also Parents and Daughters Day with pregame events beginning at 3:15. All fans and families with tickets to the game are invited. Click here for more information.
There are two special deals on tickets for the Sunday game:
Food and Fun Package – four general admission tickets, four hot dogs and four soft drinks for $28: Click here to purchase.
Discounted Tickets – $5 general admission, $15 upper reserved: Click here and specify promo code "DAUGHTERS" to purchase.
Friday is Fan Appreciation Night. You can purchase general admission tickets to the Oregon State game for $1 at the Maples ticket office on game day. There'll be prizes and giveaways throughout the game.
Friday is also Professional Women's Networking Night – a mixer before the game and courtside tickets to the game for the first 40 to register. Click here for more information and to register.