The Cardinal face two tough teams at home this weekend — Oregon on Friday evening at 8:00 and Oregon State early Sunday evening at 5:00.
The media coverage for both games is: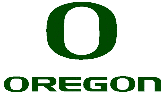 University of Oregon Ducks
Almost half of last year's team graduated, including three of the Ducks' top five scorers. Jillian Alleyne, who overtook Chiney to become the top career rebounder in the Pac-12, is the greatest loss.
But the Ducks have lots of young talent — their seven-player recruiting class ranked No. 3 in the nation by ESPN. Most notable are 6'4" forward Ruthy Hebard, who played on the USA U18 team last summer, and 5'10" guard Sabrina Ionescu, one of the top five recruits of the year and MVP of the 2016 McDonald's All-American Game.
Hebard is the Ducks' leading scorer (14.6 ppg) and rebounder (8.4 rpg). She makes 73.2% of her shots, the best in the nation. She has put up four 20-point plus games this season, including 25 points in 27 minutes against Washington last Friday.
Ionescu is the Ducks' second-best scorer (13.1 ppg) and rebounder (6.5 rpg) and the best ball handler. Although she is nominally a shooting guard, she averages more than five assists per game with an excellent 2.47 assist/turnover ratio. She has already had two 20-plus point games this season and a pair of triple-doubles.
Junior guard Lexi Bando is the Ducks' third double-digit scorer with 12.8 per game. She is their best 3-point shooter with an average of 2.7 treys per game at a rate of 57.1%, the seventh-best 3-point percentage in the nation.
However, all has not been well in Eugene. Recent injuries sapped the Ducks' backcourt. Ionescu broke her thumb about a month ago and missed the last four games. She is expected to be back in the lineup for the upcoming Bay Area games. Their other primary ballhandler, sophomore guard Maite Cazoria, missed several games while nursing a foot issue, but was back on the court last Sunday.
Freshman forward Lydia Giomi is out indefinitely with a broken hand. Freshman guard Jayde Woods also suffered a hand injury recently. She has since left the program and has been given permission to seek a transfer.
So it's not surprising that the Ducks began conference play with two losses — to Washington 77-99 and to Washington State 59-75. Head coach Kelly Graves said, "It is what it is. You gotta lace 'em up and play with what you have."
Now, with Ionescu and Cazoria back, the Ducks are ready to get a Pac-12 win.
Here are the Ducks' roster and season statistics.

Oregon State Beavers
The reigning Pac-12 champions have lost most of the talent that took them all the way to the Final Four last season. Their outstanding shooting guard Jamie Weisner, powerful center Ruth Hamblin, and forward Deven Hunter graduated.
But point guard Sydney Wiese, now a senior and the team leader, is determined to continue the Beavers' winning tradition into this season and beyond. Wiese's biggest focus this season has been working with the underclassmen to help them be, "as good as they can be and as good as we need them to be."
Wiese is an excellent ball handler who prefers distributing the ball to taking shots. She averages more than five assists per game with a very good 2.1 assist/turnover ratio.
Although Wiese has the green light, she attempts only about 11 fields goals per game. (In contrast, Washington's Kelsey Plum takes about 19 shots per game). But she's having one of the most efficient offensive seasons in the country, shooting 49 percent from the field, 47 percent from the 3-point line and averaging a career-best 16.0 ppg. (up from 12.8 last season).
She has tallied a triple-double (points, rebounds, assists) this season.
6'5"junior center Marie Gulich , who was backup to Ruth Hamblin last season, has also stepped up. She's the Beavers's second-best scorer (10.9 ppg) and the best rebounder (7.9 rpg).
The third consistent starter for the Beavers is senior guard Gabriella Hanson, their defensive specialist. She helped the Beavers limit Kelsey Plum to a season-low .348 field goal percentage last Sunday and to a season-low 14 points in the Pac-12 Tournament semifinals last season.
The Beavers have two very promising freshman guards: Kat Tudor with 7.8 ppg, almost all from beyond the arc, had a strong opening weekend in Pac-12 play, scoring a combined 20 points against Washington State and Washington; Mikayla Pivec, with a season average of 6.0 ppg and 4.9 rpg, has started the last five games for the Beavers averaging 10.8 ppg in those starts.
The Beavers have begun conference play this season with two wins — 80-58 over Washington State and 73-70 over Washington.
Here are the Beavers' roster and season statistics.